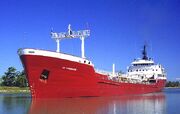 Retaining ownership of the tanker, the vessel was leased to, operated and managed by Sofati-Soconoav Ltee., Montreal, QC (later Soconav Ltee). She was drydocked at Halifax, NS on July 22, 1986 where her hull was painted her new fleet color of red. On November 4, 1986, the tanker was christened A.G. Farquharson, being named in honor of Mr. Andrew Gray Farquharson who was president and CEO of Texaco Canada from 1969 to 1972. With Soconav declaring bankruptcy in September of 1996, the A.G. Farquharson was laid up at Halifax on October, 1 of that year. Still owned by Imperial Oil, the small tanker was not needed and remained laid up until July, 1997 when she was chartered by Group Desgagnes subsidiary Petro-Nav Ltee, Montreal, QC. On December 19, 1997, the A.G. Farquharson laid up again in Halifax, her services no longer required by Petro-Nav.
Algoma Tankers, St. Catharines, ON purchased the tanker from Imperial Oil early in 1998. By late March of 1998, the vessel's hull had been painted Algoma blue and she had been given the new name Algonova.
Ad blocker interference detected!
Wikia is a free-to-use site that makes money from advertising. We have a modified experience for viewers using ad blockers

Wikia is not accessible if you've made further modifications. Remove the custom ad blocker rule(s) and the page will load as expected.