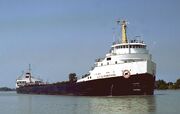 A.S. Glossbrenner was built by Davie Shipbuilding Ltd., Lauzon, PQ for Labrador Steamship Co., Montreal, PQ. She is powered by a Sulzer 6RD76 diesel engine rated at 9470 horsepower at 119 r.p.m. and is equipped with an 800 horsepower bow thruster. Fed by 16 hatches, her 6 holds can carry 24,800 tons at maximum Seaway draft of 26 feet and is capable of carrying 27,000 tons at her maximum mid-summer draft of 27 feet 8 inches.
As part of the Labrador fleet, her main cargo was iron ore from Gulf of St. Lawrence ports such as Pointe Noire, Sept Isles, and Port Cartier, PQ to the U.S. steel mills. Grain loads provided return voyages back to the Gulf of St. Lawrence.
In 1971, the A.S. Glossbrenner was sold to Algoma Central Corp., Sault Ste. Marie, ON and was renamed Algogulf(1) in 1987.