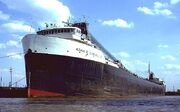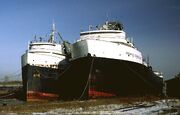 The Adam E. Cornelius, (later the Sea Barge One and the Sarah Spencer), is a former lake freighter built in Manitowoc, Wisconsin in 1959. She was the third vessel to be named the after one of the co-founders of the American Steamship Company, after the second Adam E. Cornelius had been sold and renamed the Consumer Power.
The third Adam E. Cornelius was sold to Keybulk Transportation in 1973, in its turn, and a fourth vessel took up the Adam E. Cornelius name. After her sale she bore the name Sea Barge One, and was converted to an unpowered barge.
Ad blocker interference detected!
Wikia is a free-to-use site that makes money from advertising. We have a modified experience for viewers using ad blockers

Wikia is not accessible if you've made further modifications. Remove the custom ad blocker rule(s) and the page will load as expected.