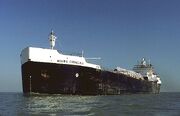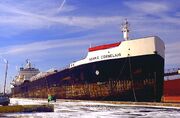 The vessel was renamed Adam E. Cornelius (4) at Buffalo on June 15, 1989 following the sale of the 3rd namesake to Keybulk Transportation. The renaming continued the tradition of American Steamship Lines in honoring Mr. Adam Edward Cornelius, one of the two founding partners of Boland & Cornelius; the forerunner of American Steamship Lines.
The Adam E. Cornelius was chartered to Inland Steel (Central Marine Logistics) from 1994 through 1998. Though being painted Inland Steel colors, she did not carry the "Inland Steel" name on the side of her hull. "Hard luck" continued to follow with a grounding July 14th, 1994 occurring 450' (137.16m) west of the approach piers to the Soo Locks while the vessel was downbound in the St. Marys River. After some lightering and a damage survey, she was permitted to continue to her destination port of Indiana Harbor to complete the unloading of her taconite cargo. The vessel then proceeded to Sturgeon Bay for repair.
The vessel received ice damage in March of 1996 followed by more serious ice damage January 24, 1997 after departing Escanaba with taconite. An 18" fracture at the 28' mark on the starboard side causing forward flooding resulted in the Adam E. Cornelius proceeding directly for repair to Sturgeon Bay under the escort of tugs with a U.S.C.G. helicopter on standby.
The Adam E. Cornelius was returned off her charter to American Steamship Lines in 1999. This, in turn, lead to the retirement of the John J. Boland (3); which now sails as the Saginaw (3) for Lower Lakes Towing. On April 29, 2000; the Adam E. Cornelius lightered 3,100 tons (3,150 mt) of coal from her fleet mate American Mariner which had grounded in Lake Huron just above Sarnia/Port Huron blocking the shipping channel.
The Adam E. Cornelius has been an active vessel in the American Steamship Company fleet participating in the stone, limestone, coal, and taconite/iron ore pellet trades. With a downturn in the steel industry, the vessel was laid up in Toledo from May through September 2001 after which she returned to service. She laid up again at Huron, Ohio, on Jan. 6, 2015 and remains there still.