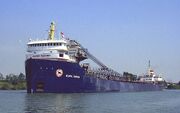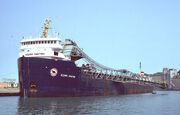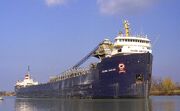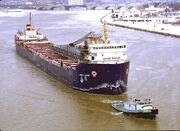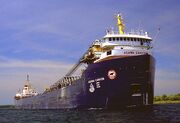 The keel was laid for this mid-size Great Lakes self-unloading bulk carrier on January 28, 1970 at Collingwood Shipyards of Collingwood, ON as their hull # 195. Built at an approximate net cost of $6.7 million CN including a Canadian Government subsidy ($8.6 million less subsidy set at 22%), the vessel was launched August 27, 1970 as the Agawa Canyon for Algoma Central Railway - Marine Division of Sault Ste. Marie, ON. The Agawa Canyon was named after the scenic gorge and canyon of the same name located north of Sault Ste. Marie, ON. She is the third of four similarly designed vessels built by Collingwood Shipyards for Algoma Central. The first was the Roy A. Jodrey, launched in 1965, sinking in the St. Lawrence River in 1974. The second was the Algorail launched in 1967 and the fourth, the Algoway launched in 1972; both still in service with Algoma.
Ad blocker interference detected!
Wikia is a free-to-use site that makes money from advertising. We have a modified experience for viewers using ad blockers

Wikia is not accessible if you've made further modifications. Remove the custom ad blocker rule(s) and the page will load as expected.