After being laid up in Hamilton in 1985 following the demise of the Carryore operation; Algoma Central Corp., Sault Ste. Marie, ON purchased the Carol Lake in 1986 renaming her Algocape(1) in 1987. As part of the Algoma fleet, her activities continued in the grain and iron ore trades but she was often laid up due to fluctuations in the grain industry.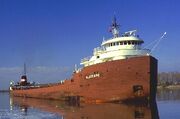 The Algocape was sold to P.& H. Shipping Ltd. (Parrish & Heimbecker), Mississauga, ON and was renamed Mapleglen(2) in 1994.
Ad blocker interference detected!
Wikia is a free-to-use site that makes money from advertising. We have a modified experience for viewers using ad blockers

Wikia is not accessible if you've made further modifications. Remove the custom ad blocker rule(s) and the page will load as expected.