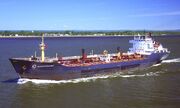 Algoma Tankers Ltd., Dartmouth, NS (division of Algoma Central Corp.) acquired the Enerchem fleet prior to the commencement of the 1999 navigation season. After being overhauled at Verrault Shipyards, she re-entered service as the Algocatalyst. The Algocatalyst currently carries petroleum products mostly between various ports along the St. Lawrence River but has spent some time this season at her lay-up berth at Sorel, PQ.
Ad blocker interference detected!
Wikia is a free-to-use site that makes money from advertising. We have a modified experience for viewers using ad blockers

Wikia is not accessible if you've made further modifications. Remove the custom ad blocker rule(s) and the page will load as expected.