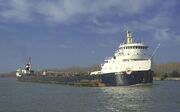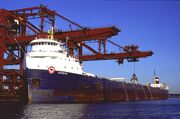 Launched on June 18, 1968 for the Algoma Central Corp., Sault Ste. Marie, ON; the keel for this classic traditional styled straight deck bulk carrier was laid December 28, 1967 as hull # 191 by Collingwood Shipyards, Collingwood, ON. At a formal ceremony held at the ship yard, the new bulker was officially christened Algocen (2) on September 20, 1968 by Mrs. John Robarts, wife of the Premier of Ontario. Attending to the new vessel was Captain Les Brown and Chief Engineer Sam Wheeler. The Algocen proved to be the last traditional styled (fore/aft cab design) straight deck bulk carrier built at the Collingwood Shipyards.
Ad blocker interference detected!
Wikia is a free-to-use site that makes money from advertising. We have a modified experience for viewers using ad blockers

Wikia is not accessible if you've made further modifications. Remove the custom ad blocker rule(s) and the page will load as expected.