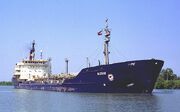 Algoma Tankers Ltd. (division of Algoma Central Corp, Sault Ste. Marie, ON) assumed ownership of Imperial Oil's tanker fleet at the beginning of the 1998 season. The Imperial Bedford was renamed Algofax at that time. Not a frequent visitor to the Great Lakes; the Algofax continues using her ice handling capabilities by servicing communities in the Canadian Arctic.
Ad blocker interference detected!
Wikia is a free-to-use site that makes money from advertising. We have a modified experience for viewers using ad blockers

Wikia is not accessible if you've made further modifications. Remove the custom ad blocker rule(s) and the page will load as expected.