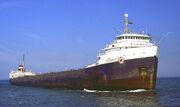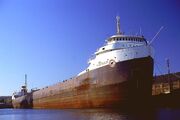 Algoma Central Corp., Sault Ste. Marie, ON acquired this vessel in 1995 renaming her Algogulf(2). The Algogulf currently sails under the management of Seaway Bulk Carriers (partnership of Algoma Central and Upper Lakes Group). Her cargoes remain in the grain/iron ore trades. As such, her sailings are dependent on the fluctuations of the grain industry resulting in some late fit-outs and fall sailings. Many other straight deckers sail earlier in the season due in part to the Algogulf's less efficient power plant.
The Algogulf entered lay-up in December, 1999 at Hamilton, Ont. Through out the following years equipment was removed from the vessel leading many to believe that she would soon be scrapped.
The rumors of scrapping were confirmed in early 2002 and the Algogulf was be towed by the McKeil Marine tug Progress from Hamilton to Port Colborne for her date with the scrappers.
As sad end to a classic straight decker, but one that is expected to repeated in the coming years. Many vessel built in the era of the Algogulf were built with a limited life span and have now exceeded those years of service.