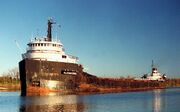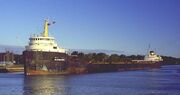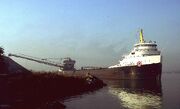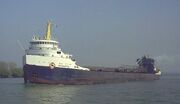 Algoma Central Corp. of Sault Ste. Marie, ON bought Nipigon Transports Ltd. on March 27, 1986 acquiring the three remaining vessels. The Lake Manitoba was renamed Algomarine in 1987. The name was derived from the corporate fleet prefix "Algo" with "marine" honoring all the staff at Algoma Central Corp. involved in "marine" operations both shore side and shipboard.
The Algomarine arrived at Port Weller Dry Docks, St. Catharines, ON August 30, 1988 for a $16 million reconstruction and conversion to a self-unloader. Her self-unloading equipment consists of a two belt gravity system with two loop belt elevators feeding a 250 foot discharge boom that can be swung 90 degrees to port or starboard and discharge at a rate of up to 5,440 tonnes per hour. The system includes variable speed belts, bulk flow gates, plastic linings and vibrators throughout.
Algomarine sailed as usual in the spring of 2016, passing down the Seaway for the last time in early May with a cargo of road salt. However as part of a large-scale fleet turnover by owner Algoma Central Corp., her Canadian registry was closed May 10, and she departed Montreal on Wednesday, May 18 under the shortened name Mari, with the deep-sea tug Diavlos Pride leading the tow. They arrived at the scrapyard at Aliaga, Turkey, in mid-June.