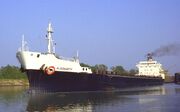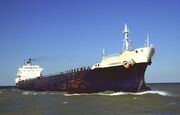 Algoma renamed the Lake Nipigon as the Algonorth in 1987 with the carrier entering service following a refit and paint at Port Weller Dry Docks, St. Catharines, ON during the summer of 1987. The vessel's new name assumes the fleet prefix "Algo" with "north" referring to Algoma's railway route north from Sault Ste. Marie, ON. From 1993 through January 2000, the Algonorth sailed under the management of Seaway Bulk Carriers, Winnipeg, MB; a partnership of Algoma Central and Upper Lakes Group.
Ad blocker interference detected!
Wikia is a free-to-use site that makes money from advertising. We have a modified experience for viewers using ad blockers

Wikia is not accessible if you've made further modifications. Remove the custom ad blocker rule(s) and the page will load as expected.