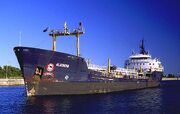 This vessel's name takes the standard company prefix "Algo" and "nova" honoring the province of Nova Scotia, home province of Imperial Oil's large Dartmouth refinery and distribution center. The Algonova was to be used as a backup vessel for Algoma Tanker's Imperial Oil contract obligations and any other liquid petroleum business obtained by her new owners. The Algonova departed Halifax on April 6, 1998 bound for the Great Lakes via Charlottetown, PEI.
Ad blocker interference detected!
Wikia is a free-to-use site that makes money from advertising. We have a modified experience for viewers using ad blockers

Wikia is not accessible if you've made further modifications. Remove the custom ad blocker rule(s) and the page will load as expected.