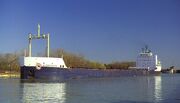 With the collapse of Great Lakes Bulk Carriers, on April 8, 1994 Algoma Central closed a deal purchasing the Winnipeg (2) and her fleet mates Richelieu (3) and Simcoe (2) from Canada Steamship Lines for approximately $4.5 million. In June of 1994, following a refit at Port Weller Dry Docks, St. Catharines, ON; the bulker entered service for new owners Algoma Central Marine Group, St. Catharines, ON sailing under the management of Seaway Bulk Carriers, Winnipeg, MB bearing the new name Algontario. The Algontario takes its name from the standard Algoma fleet prefix "Algo" and the Province of Ontario being the home province of the vessel's owners. The Algontario's fleet mates were renamed Algocape (2) and Algostream respectively. On June 10, 1995, the Algontario was noted to have struck her starboard quarter on the 106th St. Bridge in S. Chicago, IL while transiting the Calumet River. Only minor damage was reported after a Coast Guard inspection. During the 1997 season, the Algontario carried 27 cargoes consisting of 12 grain, 8 iron ore, 6 cement, and 1 sugar (for winter storage at Toronto).
Ad blocker interference detected!
Wikia is a free-to-use site that makes money from advertising. We have a modified experience for viewers using ad blockers

Wikia is not accessible if you've made further modifications. Remove the custom ad blocker rule(s) and the page will load as expected.