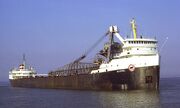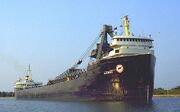 Christened April 1, 1968 as the Algorail (2), this medium sized Great Lakes self unloading bulk carrier was built by Collingwood Shipyards, Collingwood, ON for Algoma Central Corp., Sault Ste. Marie, ON. She is powered by 4 Fairbanks-Morse 10-38D8-1/8 10-cylinder diesel engines producing a total installed 6,664 horsepower, a 600 horsepower bow thruster, and a 1000 horsepower stern thruster. The Algorail has 17 hatches feeding into 4 holds where she can carry 19,975 tons at maximum Seaway draft of 26 feet and is capable of carrying 23,750 tons at her maximum mid-summer draft of 29 feet 2 inches. Her bow-mounted self-unloading equipment consists of a three belt gravity system with two cleated steel chord belt elevators feeding a 250 foot discharge boom that can be swung 105 degrees to port or starboard discharging at a rate of up to 3,810 tonnes per hour.
Ad blocker interference detected!
Wikia is a free-to-use site that makes money from advertising. We have a modified experience for viewers using ad blockers

Wikia is not accessible if you've made further modifications. Remove the custom ad blocker rule(s) and the page will load as expected.