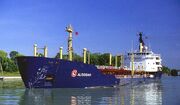 In 1997, Algoma Tankers Ltd. (a division of Algoma Central Corp., Sault Ste, Marie, ON) acquired the Imperial St. Clair renaming her the Algosar. Algoma Tankers kept the Algosar active carrying petroleum products throughout the Great Lakes and St. Lawrence Seaway.
In August 2004, the Algosar was sold to Genesis Worldwide Shipping & Trading in Apapa, Nigeria and renamed Genesis Explorer. Her registry was changed to Moroni, Comoros. Departed Quebec City in early January 2005 with a load of tallow for Africa.
Sold for scrap in April 2011 and the name was shortened to Explorer. Possibly scrapped in Nigeria.
Ad blocker interference detected!
Wikia is a free-to-use site that makes money from advertising. We have a modified experience for viewers using ad blockers

Wikia is not accessible if you've made further modifications. Remove the custom ad blocker rule(s) and the page will load as expected.