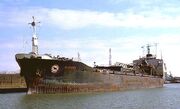 Prior to sailing from England in early April, 1976, the Brooknes was renamed Algosea after which the vessel departed for Port Colborne, ON, arriving on April 29, 1976 to be converted to a self-unloader by another Algoma subsidiary Herb Fraser and Associates. Prior to arriving at Port Colborne, the Algosea allided with a concrete wall below the Welland Canal's Lock 1 and then lost her cables and was blown across the canal below Lock 2 by strong winds. The conversion commenced on April 30 and included the removal of the deck cranes. Her new self-unloading equipment consisted of a three-belt gravity hopper system with vibrators fitted feeding a stern-mounted loop-belt elevator to a 245' 00" (74.77m) discharge boom. The designed discharge rate was up to 3,750 tons (3,810 mt) per hour. As completed, the Algosea's final configuration consisted of 9 hatches servicing 7 holds where the vessel could carry 23,750 tons (24,132 mt) at a mid-summer fresh water draft of 30' 05" (9.27m) and a Seaway capacity of 19,000 tons (19,305 mt) at the early Seaway draft of 26' 00" (7.92m). The new self-unloader was formally christened Algosea (1) by Mrs. Howard (Betty) Andrews, wife of the Vice President of Marine Services, Hanna Mining Co. as sponsor at a ceremony held at Port Colborne on October 19, 1976. The final cost to Algoma in acquiring the Algosea, the lengthening, the self-unloader conversion and other work was $17,713,409.
Ad blocker interference detected!
Wikia is a free-to-use site that makes money from advertising. We have a modified experience for viewers using ad blockers

Wikia is not accessible if you've made further modifications. Remove the custom ad blocker rule(s) and the page will load as expected.